The Embassy of the Republic of Fiji in Tokyo has set up a Tropical Cyclone Yasa Relief Fund Account, to assist the people of Fiji, who have been badly affected by the most horrific cyclone destruction.
Tropical Cyclone Yasa, a category 5 storm cyclone, brought gusts of wind of up to 345km per hour, causing flooding and landslides. Fiji's second-largest island Vanua Levu and coastal areas of many islands were impacted by storm surges and flooding during the height of the storm on the 17th December 2020.
In the aftermath of the cyclone and flooding, there has been a loss of lives, many people left homeless, massive destruction of buildings, schools, hospitals, public infrastructure and businesses, villages and some maritime islands were flattened, and livelihoods destroyed. The full cost of the damage suffered by the people of Fiji will not be known for a few weeks as the relief assessment teams are currently working hard with the limited resources they have and with the assistance from donor countries to span the whole of affected Fiji. However, the cost of damage is estimated at hundreds of millions of dollars. It was the strongest storm in the basin since TC Winston in 2016 and the strongest in the cyclone season 2020-21.
The relief donations will be used to rebuild the lives of the many people across Fiji who suffered the cyclone's drastic devastation to their homes and livelihood. Notable schools in Bua, Macuata, Cakaudrove in Vanua Levu, Taveuni, Yasawa, and Southern Lau have suffered severe damage to classrooms, teachers' quarters, textbooks, school resources, etc. These schools are needed to be rebuilt now, forcing many students to find alternative schools to continue their studies as reconstruction work on these schools would take 1 to 2 years to complete. Also, many affected students would be without school stationery and uniforms.
The Bank and the Bank Account details in which you may deposit your financial donation is as follows:
Account Number: 3043244
Account Name: FET NATURAL DISASTER RELIEF APPEAL FUND
Name of Bank: Mizuho Bank (Savings)
Branch Name: Kamiyacho Branch
It is anticipated that most people in Vanua Levu and rural maritime islands will be without homes. More than 3,206 people are still living in evacuation centers. Initial damage assessment, which was completed on 28 December by the Commissioner Northern Division, reveals that 6,000 houses were partially damaged while 1,500 houses were damaged entirely caused by flooding, storm surge, and destructive winds in the wake of TC Yasa. Many houses are needed to be rebuilt and will require emergency shelter (tarpaulins and toolkits) and essential household items assistance (clothing, kitchen sets, solar lamps, blankets), as well as appropriate technical assistance. According to the Ministry of Education Fiji assessment, close to 85 schools in TC Yasa affected areas have sustained damages.
As a result of massive damage to agricultural areas on Yasawa-i-rara, Vanua Levu, Taveuni, and Maritime Islands, including Koro, Cicia, Moce, Komo, which is home to many farmers, food security has also been impacted as livestock and farms have been destroyed.
The core expense of the Government's rehabilitation and reconstruction work is three-pronged which encompass (i) provisions of basic needs (food, shelter, water, accessibility, livelihood, health, and sanitation; (ii) restoration of essential service (roads, ports, jetties, airfields, water electricity, communication, education, continuity of Government machinery); and (iii) economic recovery (infrastructure, utilities, tourism sector, private sector, agriculture, fisheries, and forestry).
Thank you most sincerely for your goodwill and generosity to help.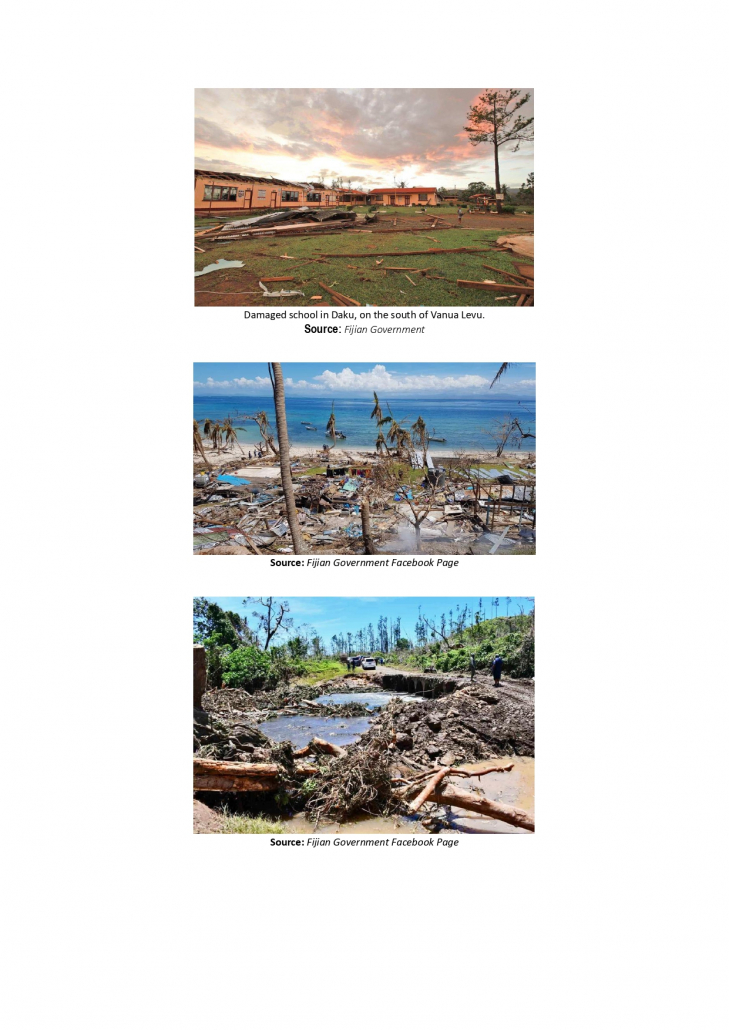 https://fijiembassy.jp/wp-content/uploads/Coat_of_arms_of_Fiji-200x241.png
0
0
Kelera Rakavosa
https://fijiembassy.jp/wp-content/uploads/Coat_of_arms_of_Fiji-200x241.png
Kelera Rakavosa
2021-01-07 05:59:03
2021-01-07 08:01:28
TROPICAL CYCLONE YASA RELIEF APPEAL