On Friday, 5 August 2022, Ambassador-Designate Filimone Waqabaca paid a courtesy call on Japanese Vice-Minister for Foreign Affairs, Hon. Takeo Mori in Tokyo. The Ambassador's visit was to present a copy of his Credentials as the Republic of Fiji's new Ambassador to Japan.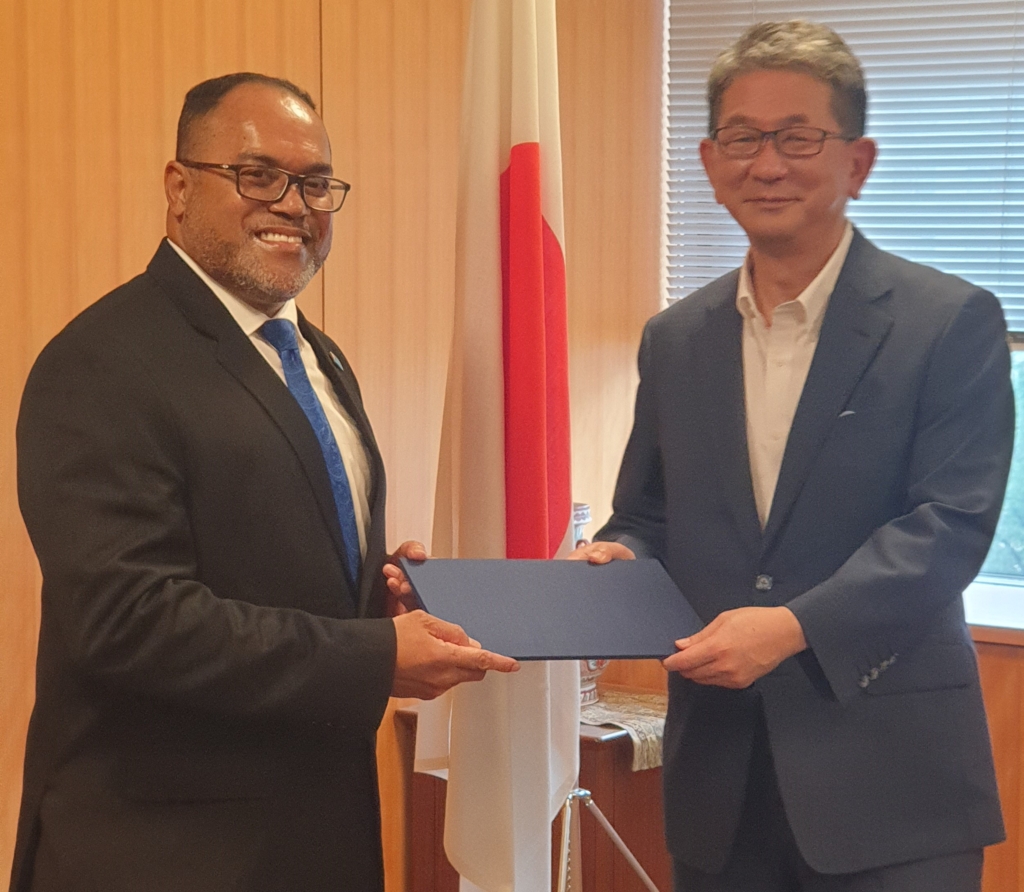 The Hon. Vice-Minister Mori welcomed Ambassador-Designate Waqabaca to Japan and stressed on how important the Japan-Fiji relationship has been. Ambassador-Designate Waqabaca expressed his appreciation to the Hon. Mori for the Government of Japan's support and assistance towards Fiji particularly in the areas of (i) COVID-19 Recovery and Response, (ii) Sustainable Oceans Based on the Rule of Law, (iii) Climate Change and Disaster Resilience, (iv) Strengthening Foundation for Sustainable and resilient Economic Development, and (v) People-to-people Exchanges and Human Resource Development.
Adding on, Ambassador-Designate Waqabaca thanked the Government of Japan for their enormous support and contributions toward Fiji's social and economic stability that had been negatively affected by COVID-19. The financial support provided, assisted the Fijian Government to implement economic, fiscal and health countermeasures and improve public financial management, policy-making function and business/investment climate.
Furthermore, Ambassador-Designate Waqabaca conveyed sincerest condolences on behalf of the Fijian Government and the people of Fiji, on the untimely demise of former Prime Minister of Japan, His Excellency, Mr Shinzo Abe on 8th July 2022.
In response, Vice-Minister Mori thanked Ambassador-Designate Waqabaca for the opportunity to meet and discuss opportunities for collaboration in areas of mutual interest. He further stressed on Japan's Indo-Pacific Strategy and the Rule of Law and emphasized on how proactively Japan promotes the importance of maritime order in the Indo-Pacific region.
In closing, Ambassador-Designate Waqabaca thanked Vice-Minister Mori for receiving him and for the opportunity to be engaged in a frank discussion on key areas of importance to both parties.
End.
https://fijiembassy.jp/wp-content/uploads/Coat_of_arms_of_Fiji-200x241.png
0
0
Kelera Rakavosa
https://fijiembassy.jp/wp-content/uploads/Coat_of_arms_of_Fiji-200x241.png
Kelera Rakavosa
2022-08-05 18:05:23
2022-08-18 16:17:34
Fijian Ambassador Pays Courtesy Call on Japanese Vice-Minister for Foreign Affairs