Whilst in Kamaishi, Ambassador Isikeli Mataitoga was also hosted to a welcome reception on Thursday, 6 June 2019 evening. Attendees included the Mayor of Kamaishi city, Mayor of Miyako city, Senior city officials of both cities, and friends of Fiji who all enjoyed the dinner. About 20 attended the two-hour reception.
The evening reception is hoped to inspire others to derive new openings of exchange ties, and in particular to what that can be exchanged between Kamaishi, Miyako, and Fiji. Mayor Noda of Kamaishi while officiating added that "I hope you have the chance to build deeper relationships with the Members of our Rugby World Cup community this evening, and further develop ties with Kamaishi, Miyako, and Iwate ahead of a successful Rugby World Cup". The Mayor also stressed how the owner of Houraikan Inn experienced significant damage from the earthquake and tsunami but was able to be rebuilt through the great effort of its owner and staff.
The Ambassador, in his remarks, expressed profound gratitude for both the Mayors of Kamaishi and Miyako and Iwate Prefecture as well as all those involved in the building and strengthening the Fiji-Japan relationship in Iwate. Ambassador Mataitoga also underscored his visit to Abashiri, and Sapporo and how rugby a base has also seen Fiji's genuine connections with other prefectures and cities in Japan. The growing bond between Fiji and the regional part of Japan in recent times, and now with Miyako as the second official campsite and Kamaishi as the official match venue for our team, seals the initial establishment of Fiji-Kamaishi, Miyako and Iwate exchanges. The need to further promote economic, commercial, and people-to-people relations between the two countries was also stressed.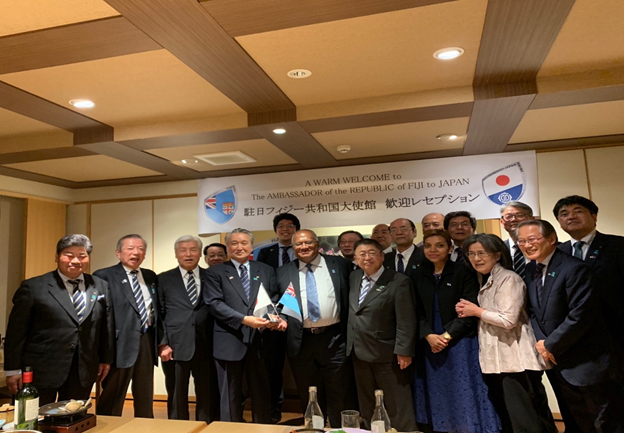 Ambassador Mataitoga flanked by Kamaishi Mayor Noda (left) and Miyako Mayor Yamamoto (right)
Ambassador Mataitoga further thanked Kamaishi and Miyako Mayors respectively for their tremendous support and assistance in molding together a very successful visit itinerary. He also assured the Mayor of the Fiji Embassy Tokyo`s commitment and support towards a successful visit program and the official camp of our Flying Fijians in Iwate Prefecture.
https://fijiembassy.jp/wp-content/uploads/Coat_of_arms_of_Fiji-200x241.png
0
0
Kelera Rakavosa
https://fijiembassy.jp/wp-content/uploads/Coat_of_arms_of_Fiji-200x241.png
Kelera Rakavosa
2019-06-19 03:27:53
2019-06-19 03:29:03
Ambassador Mataitoga hosted to a Welcome Reception [Kamaishi & Miyako City]