The Fiji Embassy Tokyo, on the eve of 8th February 2018, successfully commissioned Mr. Chikayuki Shimizu as Fiji's Honorary Consul in Ebetsu, Hokkaido in Japan. Hokkaido, located in the northernmost of Japan is also the largest prefecture in Japan.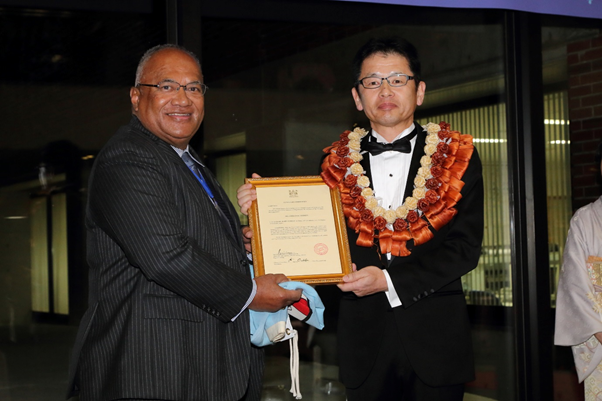 Ambassador Mataitoga presenting Mr. Shimizu with his Consular Commission
The inauguration event was marked by the official handing over of the Consular Commission that was duly signed by Fiji's Minister for Foreign Affairs, Hon. Mr Josaia Voreqe Bainimarama, by His Excellency Mr. Isikeli Mataitoga to Mr. Shimizu. It was held at the Ceramic Art Center Ebetsu before 135 invited guests constituting the Honorable Members of the Diet and their Worships the Mayors. Senior government officials, business affiliates, representatives of NGOs and academia were also present. The Honorable Mr. Seiichi Eto, Special Advisor to the Prime Minister was the guest of honour.
While solemnizing the occasion, Ambassador Mataitoga congratulated Mr. Shimizu and on behalf of the Government of Fiji expressed profound gratitude for his credence. He underscored Fiji's long-standing policy in establishing and maintaining friendly relations with countries that have demonstrated genuine goodwill towards Fiji, as the underpinning attribute to the establishment of this new Honorary Consulate Office in Ebestu, Hokkaido. It is also a reflection of the goodwill enjoyed between Japan and Fiji since 1970 in the promotion of economic, commercial and people-to-people relations between the two countries.
With the establishment of the new Honorary Consulate Office in Ebestu, Hokkaido, Ambassador Mataitoga is confident that Fiji stands to gain much more from deepening its tourism, trade, and investment promotion in not only Ebetsu but throughout Hokkaido as a whole.  It is hoped that the presence of the new Consulate office will also promote greater public diplomacy in the form of people to people exchanges through sports, educational and cultural with the people of Hokkaido.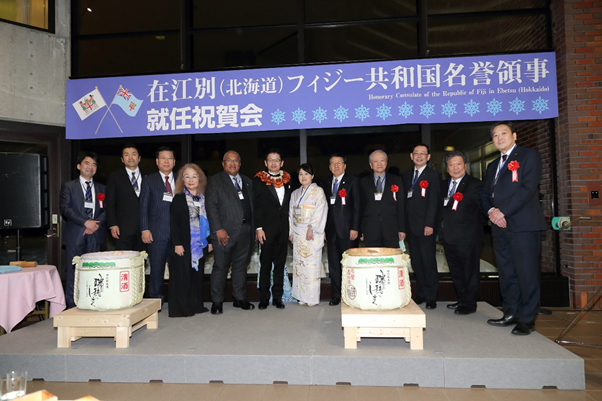 (middle) Mr & Mrs Shimizu surrounded by VIP guests at the evening reception
Fiji's prospects in Hokkaido is perceived significantly given their commonalities in the area of ICT or back office operations, as well as Ebetsu city as the residence for our Honorary Consul, and Sapporo for our Fijian students, and with easy access to other parts of the region, Tohoku and to Tokyo, would also serve as an excellent location for offering Fiji`s information to the people of Japan. Moreover, Hokkaido is perceived to be the region advancing the cluster for the manufacturing industry, in particular local concentration of automotive and electronic parts companies. Also, it is gaining attention in the food-related industry, where the food resources produced in Hokkaido are locally manufactured.
Fiji now has 3(three) Honorary Consuls in Japan, resident in three different Prefectures. Ambassador Mataitoga in keeping with his vision intends to set up similar arrangements in other regions of Japan.
End.
Embassy of the Republic of Fiji
TOKYO