HE Ambassador Isikeli Mataitoga on Friday 6th March 2015 paid a courtesy call on Mr. Hiroyuki Ishige, Chairman of the Japan External Trade and Regional Organization (JETRO) at the JETRO Building, Tokyo.
At the outset Ambassador thanked Mr. Ishige for the opportunity to discuss bilateral matters that would enhance and deepen Fiji-Japan trade relation. He informed of the support from the relevant agencies, in particular of the JETRO regional offices that have supported the Embassy in its outreach activities.
The Ambassador informed of the new Japanese Development Cooperation Charter which was approved by the Cabinet last 10th February 2015, further underlining that without such changes, pursuing trade and market access in Japan is a difficult opportunity. This is crucial given that Fiji being a middle income economy did not qualify for grant aid in the past; but receive assistance through regional frameworks.
Another issue raised by Ambassador relates to any role JETRO may play in the organization of a Workshop in Fiji for representatives of Japanese SME's who may be interested in doing business or investing in Fiji in particular in sectors such agriculture, fisheries, food manufacturing etc, that would be exported to Japan and other markets in the Asia-Pacific region. In this regard, the Fijian Government provides generous support in both taxation and duty free concessions to investors in designated sectors of the Fijian economy.
Mr Ishige added that JETRO will be able to cooperate in the upcoming PALM Summit scheduled in May 2015, in organizing a Business Forum for the PIC Leaders to know Japanese business people and for the Leaders to show what`s going on in the PICs. He further stressed on the international exhibitions such as FOODEX 2015 which is currently taking place at Makuhari Messe in Chiba. Participation application for 2016 is said to be available from September 2015.
Mr Ishige also mentioned of his JETRO Sydney staff who will be meeting CEO Investment Fiji in Fiji, to discuss on trade cooperation. Ambassador further mentioned of his prefectural visits throughout Japan and indicated Fiji's willingness for deepening its trade and economic exchanges with Japanese companies.
In conclusion, Mr. Ishige thanked Ambassador for the invaluable exchanges that have transpired. The Ambassador was accompanied by SS Kelera Savu.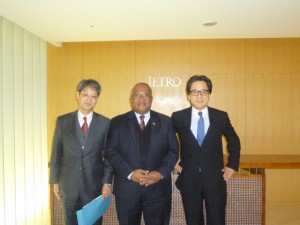 (l-r) Executive Vice President Mr Daisuke Hiratsuka, HE Mr Isikeli Mataitoga and CEO/Chairman Mr Hiroyuki Ishige
https://fijiembassy.jp/wp-content/uploads/Coat_of_arms_of_Fiji-200x241.png
0
0
Kelera Rakavosa
https://fijiembassy.jp/wp-content/uploads/Coat_of_arms_of_Fiji-200x241.png
Kelera Rakavosa
2015-03-06 12:45:47
2015-03-12 10:47:31
Chairman of the Japan External Trade Organization Requested to Assist Japanese SME's Do Business or Invest in Fiji