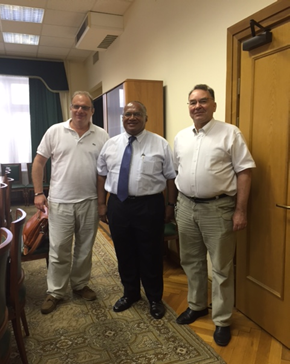 Ambassador Mataitoga met with senior representatives of the Chamber of Commerce & Industries of the Russian Federation (CCI), Mr Sergey VASILIEV, Deputy Chairman, Committee for Economic Cooperation with Asia and Oceania, and Professor Vadim SALTYKOVSKIY, also a member of the same committee in Moscow on 2 August 2016.
The meeting explored areas and opportunities to further build and develop trade, business and investment relations between Fiji and the Russian Federation, as well as consult with private sector representatives on issues that Fiji should address to increase bilateral relations between the two countries.
The discussions focused on exploring the potential  niche markets for products such as virgin coconut oil, tuna, fiji water, sugar and Fiji's range of beauty products. Tourism (sports and cultural) was also an area of interest in the discussions, focusing both on visitors from Russia as well as attracting investment into Fiji's tourism sector. Furthermore, the prospect of a mini-trade/invesment Mission from Fiji to Russia was also explored and for our Russian counterparts to consider.
Fiji Embassy
TOKYO
https://fijiembassy.jp/wp-content/uploads/Coat_of_arms_of_Fiji-200x241.png
0
0
Kelera Rakavosa
https://fijiembassy.jp/wp-content/uploads/Coat_of_arms_of_Fiji-200x241.png
Kelera Rakavosa
2016-08-04 04:24:47
2016-09-20 04:42:20
Consultation with the Chamber of Commerce & Industries of the Russian Federation