HE Mr Isikeli Mataitoga whilst visiting Iwaki city, Fukushima prefecture called on Governor Yuhei Sato, at the Governor's Office on Friday, 4 October 2013 for courtesies.
In his brief, Ambassador highlighted on the purpose of his visit to Fukushima prefecture, and further extended appreciation to the governor for the opportunity provided to promote Fiji`s unique culture and heritage to the people of Fukushima.
He also sought the Governor`s support on developing community level and town/cities sister relations between Fiji and Fukushima. HE further added that Fiji is ready to assist Fukushima in its rehabilitation and service industry, as well as engaging teachers from Fiji under the JET Programme.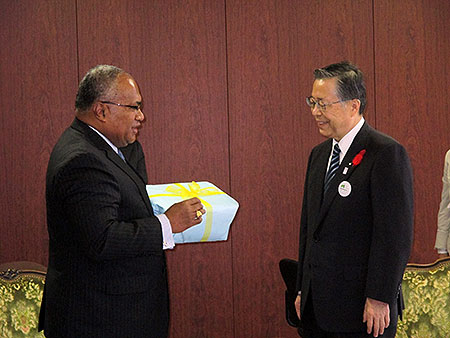 Governor Sato thanked Ambassador Mataitoga for visiting and for promoting close bilateral ties and cooperation between the people of his province and Fiji.
The governor further expressed great hope for the Embassy`s reach-out promotion in Fukushima prefecture. He also agreed that Fiji`s beautiful and attractive features should be developed into practical opportunities in trade, investment and tourism between them.
Ambassador Mataitoga thanked Governor Sato for his time and look forward in further deepening exchange ties with Fukushima prefecture. The Ambassador was accompanied by Second Secretary Kelera Wright.
https://fijiembassy.jp/wp-content/uploads/Coat_of_arms_of_Fiji-200x241.png
0
0
Admin
https://fijiembassy.jp/wp-content/uploads/Coat_of_arms_of_Fiji-200x241.png
Admin
2013-10-07 00:00:19
2014-11-26 05:42:20
HE Ambassador Isikeli Mataitoga Pays Courtesy Visits On Fukushima Prefecture Governor, Mr Yuhei Sato