HE Mr Isikeli Mataitoga called on HE Mr Tom Kijner, Ambassador of the Republic of the Marshall Islands on Thursday 22 January 2015, to discuss issues relating to the upcoming PALM 7. This meeting was held at the request of Fiji, intended to seek the support of the PICs in Japan for the discussion of new issues during the PALM 7 SOM schedule for 4 March 2015 and also at the PALM 7 itself in May 2015. Fiji would like to include the following issues in the PALM 7 Agenda and seek the support of the PICs in that regard:
Limited market access for goods and services from PICs in to the Japanese market;
Tourism promotion support for PICs in Japan
Ambassador Mataitoga explained the background of both issues to Ambassador Kijiner and stressed that these issues have been raised by Fiji and other PICs in previous Japan/ PIC consultations, but it does not seem to make it to the PALM for discussion at least. This is raising the concern that PALM is a monologue and not a dialogue process between partners willing to address development issues of relevance to all the relevant parties.  Ambassador Kijner agreed that these issues should be included in the upcoming SOM for PALM 7 and he would be advising his capital to support the inclusion of the two issues above. Both Ambassadors' also agree that the matter should be first discussed during the upcoming SOM PALM7 next month.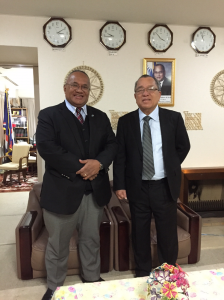 HE Mr Isikeli Mataitoga with HE Mr Tom Kijner
https://fijiembassy.jp/wp-content/uploads/Coat_of_arms_of_Fiji-200x241.png
0
0
Kelera Rakavosa
https://fijiembassy.jp/wp-content/uploads/Coat_of_arms_of_Fiji-200x241.png
Kelera Rakavosa
2015-01-22 07:51:01
2015-02-05 07:55:04
Meeting with HE Mr Tom KIJNER, Ambassador of the Republic of the Marshall Islands to Japan