Abashiri City in Hokkaido together with the Embassy of the Republic of Fiji in Tokyo held a Fiji Promotion Seminar in Abashiri on Wednesday, 5 June 2019, to provide overview information of Fiji with focus on sports and culture. Senior city officials, representatives of the sports association, business sector, and interested individuals from throughout Abashiri attended the seminar. About 196 people attended the seminar.
The seminar started with the welcoming remarks from His Worship Mayor Yoichi Mizutani providing an overview of the initial relationship between Fiji and Abashiri, rugby promotion and Abashiri getting ready to host the Flying Fijians Team in September 2019.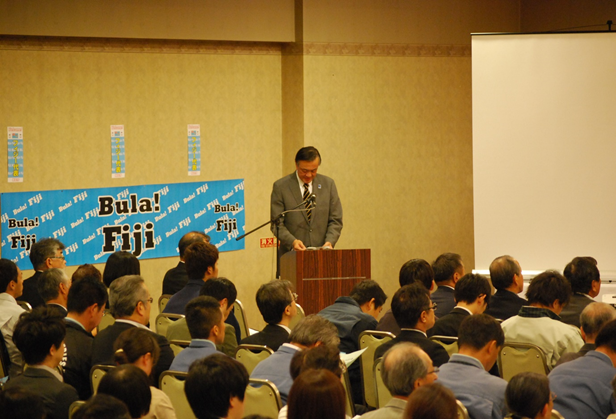 His Worship Mayor Yoichi Mizutani giving the welcoming remarks
This was followed by opening remarks from HE Mr. Isikeli Mataitoga further expressing profound gratitude for the Mayor and his team's willingness to assist Fiji in building and strengthening the Fiji-Japan relationship in Abashiri, Hokkaido.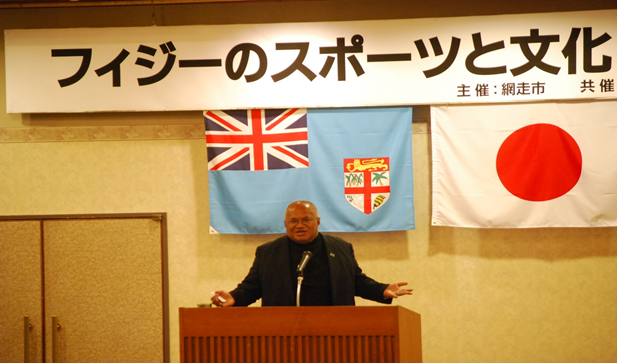 Ambassador Isikeli Mataitoga giving the opening remarks
Ambassador Mataitoga also underscored how rugby today is part of Sports Diplomacy, and how this as a base has also seen Fiji's genuine connections with other prefectures and cities in Japan. Fiji's win and being crowned the 2018-2019 World Rugby 7s Champion as an example was also shared. The growing bond between Fiji and Hokkaido in recent times following the establishment of Fiji's Honorary Consulate in Ebestu, and now with Abashiri as the first official camp site and Sapporo as the official match venue for our team, seals the initial establishment of Fiji-Abashiri exchanges. The need to further promote economic, commercial and people-to-people relations between the two countries was also stressed.
The seminar then heard a detail presentation from First Secretary Kelera Savu on Fiji's Overview, History of Fiji Rugby and the Fiji Embassy Tokyo Outreach Activities, further expanding Fiji's footprint throughout Japan. The FET Outreach Activities and Fiji Tourism Promotion 2019 initiatives during the Rugby World Cup (September-October) were also explained to the participants and they were challenged to support the efforts of the FET, now with the resumption of the Nadi-Narita direct flights.
Fiji's Honorary Consul in Ebetsu, Hokkaido Mr. Chikayuki Shimizu also shared his experience and the role he plays in further supporting the Fiji Embassy Tokyo's outreach activities and effort in strengthening and deepening Fiji-Japan ties throughout Japan. The Abashiri Board of Education Superintendent Mr. Masaaki Mishima concluded by thanking everyone for the great turnout, and in particular Ambassador Mataitoga for gracing Abashiri City with his presence.
The seminar provided an opportunity for Ambassador Mataitoga to express deep appreciation to all involved in the preparation and arrangement of receiving and hosting the Flying Fijians Team during the RWC2019. The seminar is the first of its kind of the Fiji Embassy efforts to promote Fiji directly to the citizens of Abashiri City, Hokkaido.
https://fijiembassy.jp/wp-content/uploads/Coat_of_arms_of_Fiji-200x241.png
0
0
Kelera Rakavosa
https://fijiembassy.jp/wp-content/uploads/Coat_of_arms_of_Fiji-200x241.png
Kelera Rakavosa
2019-06-18 07:13:34
2019-06-18 07:13:36
Citizens of Abashiri City in Hokkaido Hears of Fiji [Seminar]