Hon Jone Usumate represented Fiji on behalf of Prime Minister and Minister of Foreign Affairs at the Regional Ministerial Consultations with Japan in Tokyo. He was accompanied by Permanent Secretary of Foreign Affairs, Ambassador Robin Nair and Fiji Ambassador in Tokyo, Ambassador Isikeli Mataitoga.
The Third PALM Ministerial Interim Meeting between the Forum Island Countries (FIC) and Japan was held in Tokyo on 17 January 2017. The meeting which was held at the level of Ministers to review the progress and implementation of the decisions that were agreed to by the Leaders of Japan and FICs when they met in Iwaki City, Fukushima in May 2015.
Most of the Forum Island Countries were represented at Ministerial level and some at level of Head of Government level. The meeting was Co-Chaired by Hon Fumio Kishida, Minister of Foreign Affairs of Japan and Hon. Lorin Robert, Secretary of Foreign Affairs of the Federated States of Micronesia from FIC side.
The main issues discussed were the follow up in Japan/Forum Island Countries cooperation in the international fora, United Nations Reform and support for international conferences hosted by Pacific Island Countries. In the second session of the meeting the two main areas discussed covered working towards sustainable development and self-sufficient development through addressing environmental challenges brought about by climate change, Disaster Risk Reduction and waste management.
Hon Fumio Kishida in his opening remarks to the meeting acknowledges the important role Fiji will be engaged in as Chair of COP 23 of the UNFCCC and, also as co-host of the Global Conference on Sustainable Use of Oceans and Seas in 2017. He observed that Japan will support Fiji in these roles.
Hon Jone Usamate spoke on trade, investment and business development issues and the need to develop investment and business opportunities that create jobs for PICs. In terms of the issues that may be reflected on the agenda of the PALM 8 Meeting in 2018 he suggested that trade in services needs to discussed as an area of international trade that most PICs could be engaged in. The need to look at SMEs from Prefectural Government to engage with PICs counterparts, given their comparable economies of scale is to be encouraged through Japanese assistance.
At the end of the 3rd Ministerial Interim Meeting, the Hon Fumio Kishida announced that the next date of the 8th PALM Leaders Meeting will be 17-18 May 2018 and to be hosted in Iwaki City, Fukushima.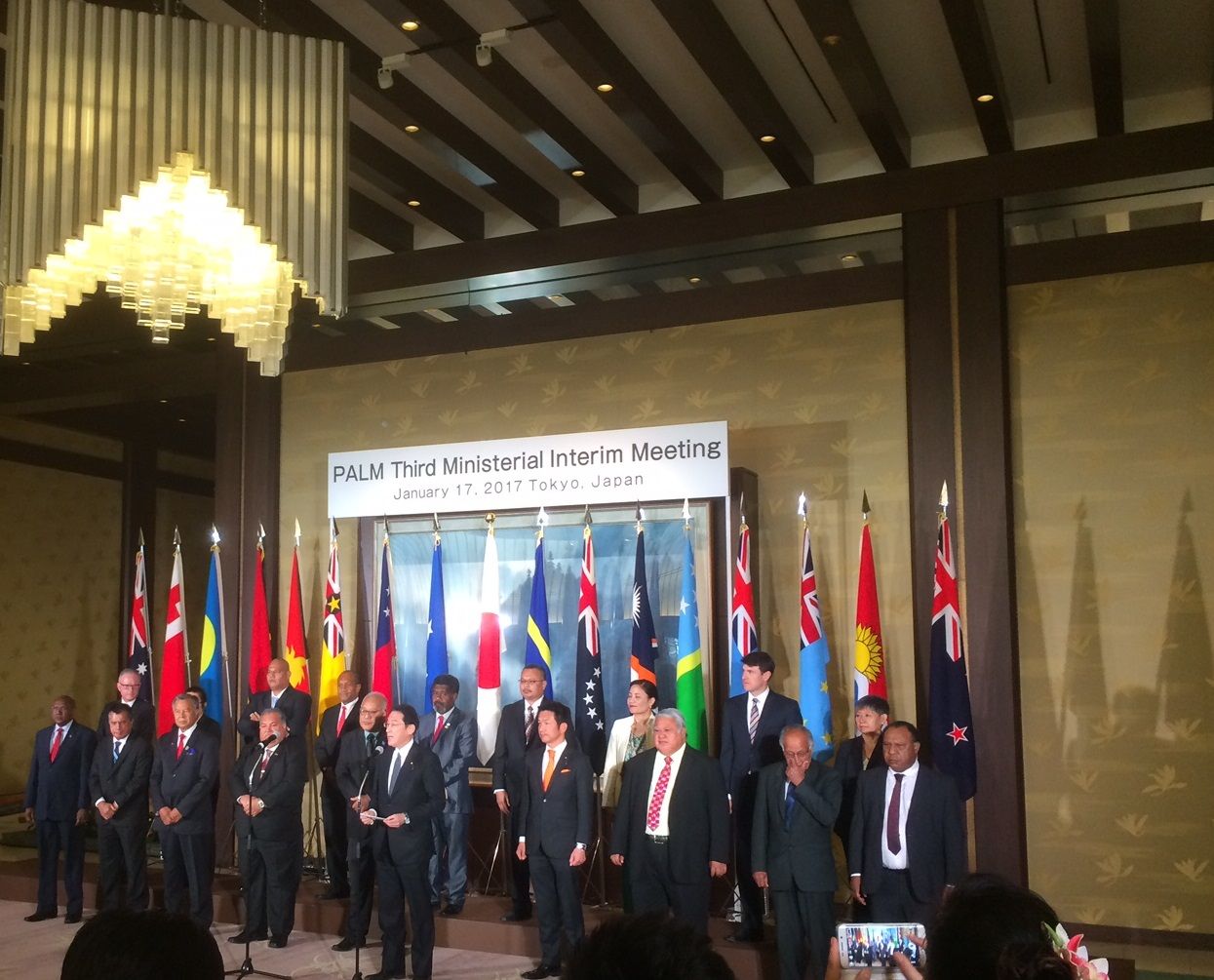 The Hon Mr. Jone Usamate MP, Minister of Employment, Productivity, and Industrial relations was the head of the Fijian Delegation with Ambassador Robin Nair, Permanent Secretary of Foreign Affairs, and Ambassador Isikeli Mataitoga, Ambassador of Republic of Fiji to Japan. Assisting the Fiji Delegations were Mr Isikeli Nadalo, First Secretary and Ms Kelera Savu Second Secretary.
Embassy of the Republic of Fiji
Tokyo, Japan
17/1/2017
https://fijiembassy.jp/wp-content/uploads/Coat_of_arms_of_Fiji-200x241.png
0
0
Kelera Rakavosa
https://fijiembassy.jp/wp-content/uploads/Coat_of_arms_of_Fiji-200x241.png
Kelera Rakavosa
2017-01-17 01:33:53
2017-02-08 01:51:42
Hon.Minister Usamate Attends Regional Consultations In Tokyo